Service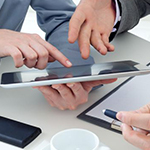 Accounts receivable
Accounts receivable is distracting. Are you troubled by losing your money from the Rotating Savings and Credit Association you join in, not able to collect the payment for your goods back, or the collection of overdue receivables due to the involuntary bankruptcy of the company and the accountable person hiding away? Many people fail to deal with the debtor because they are too busy at work and put themselves in the difficulty for not able to collect the accounts receivable back successfully. Have you suffered huge amount of money loss because of lacking legal knowledge and not knowing how to push on overdue receivables legally? Please pass us the issues of the overdue receivables and information, and we will handle it successfully for you.

Daai Investigation is a professional investigation company, and we gather all the excellent talents and lawyer consultants in the industries together to assist clients sorting out the debt of overdue receivables. We are a debt-collection agency commissioned by many people. However, many debt-collection agencies look like running the business legally but actually work with gangster groups. They not only are not able to solve the debt of overdue receivables but also create problems to clients. If you want to collect your debt, you need the assistance from legal and professional collecting personnel. You can sit back and enjoy the result without any anxiety and worried. Instead, you can spend your precious time on other things that are more valuable as well as enjoy the joy of life. Leave your problems to us, and Daai Investigation will sort out the accounts receivable for you, including bad debt, overdue receivables, and making off with money.

1. Do you have no idea for how to push on the accounts receivable because of lacking legal knowledge?
2. Are you afraid of the involvement of gangster and restless and further cause sequela of rival gang?
3. Someone owes you debts but you are not able to collect?
4. Do you feel frustrated because going to court for lawsuit is time consuming?
5. Are you afraid of the forcefulness of the other party and dare not to do anything to provoke?

If you have any of the issues above, Daai Investigation provides professional and legal collection service of accounts receivable to assist you sort out the issues of debt!